Northwest Weight and Wellness Center in Everett, Washington is home to some of the Pacific Northwest's most notable weight loss experts, but we are also dedicated to caring for your overall health and wellbeing. As part of our commitment to holistic health, we offer a range of Vitamin IV Therapy services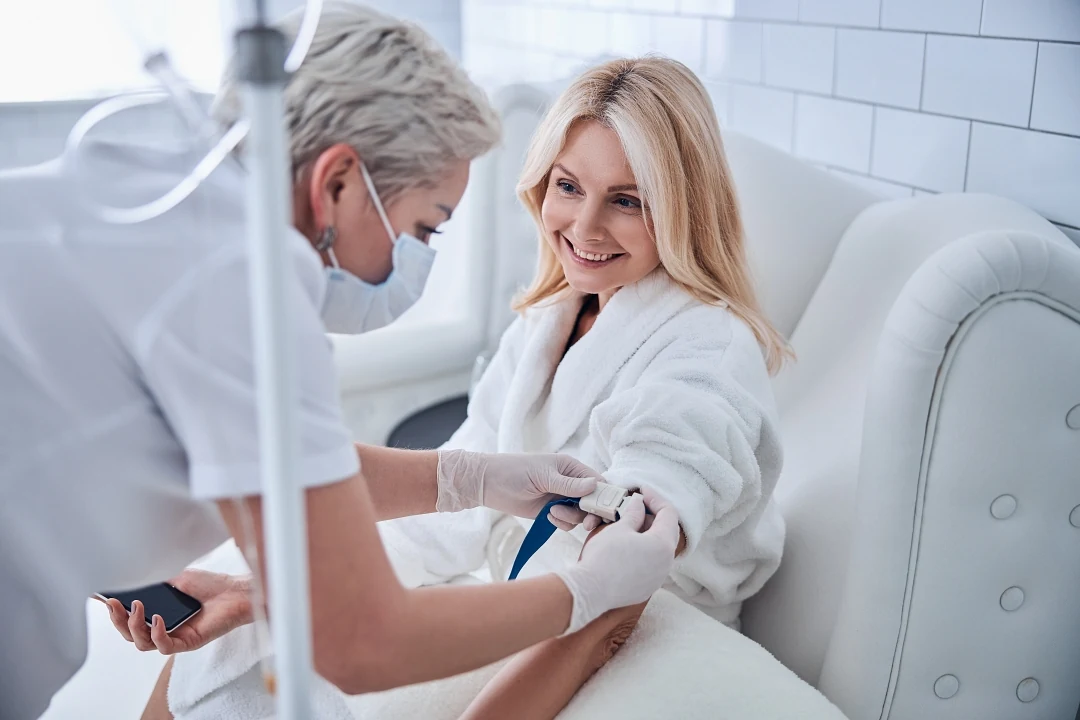 What is Vitamin IV Therapy?
Vitamin IV therapy, sometimes called infusion therapy, is designed to boost your natural system's essential nutrients by delivering pure, concentrated vitamins and minerals directly to the bloodstream where they are fully absorbed by the body.
Vitamin IV therapy is customizable so you can get the nutrients that you need most. Our providers will take into account your needs and goals when recommending a mix of vitamins tailored for you.
Benefits of Vitamin IV Therapy
Each person's body has different needs and different ways of processing nutrients.. Some bariatric surgical procedures can cause hair loss and/or malabsorption issues.
People seek out vitamin IV therapy to:
Increase energy
Improve hydration
Enhance immunity
Nourish skin and hair
Get better nutrient absorption than food or oral supplements
Vitamin IV Options
Natural Defense
If you have been feeling run down or you would simply like to avoid catching the next cold that goes around, this vitamin IV option is for you. Natural Defense is a high-impact vitamin cocktail to boost your immune system.
Fountain of Youth
This combination of nutrients is designed to fight dehydration so you can maintain younger looking skin, hair, and nails. Infuse your body with the vitamins it needs to hold onto hydration.
Glutathione
This antioxidant powerhouse has many potential benefits. Glutathione can support metabolism, muscle recovery, and detoxification. It can also improve your complexion for naturally glowing skin.
Add-on Infusion Options
What to Expect From Vitamin IV Therapy
Preparing for Vitamin IV Therapy
There are a few simple steps you can take to ensure you have the best IV therapy experience possible:
Wear short sleeves or loose sleeves that you can easily roll up
Drink lots of water so you are hydrated before your appointment
Eat a wholesome meal or snack shortly before your appointment
Your Vitamin IV Therapy Session
Vitamin IV therapy typically takes between 45 minutes and an hour. We will give you everything you need to be comfortable and keep your arm still during this time. You may experience a sensation of coldness or stiffness near the IV, which is normal and will go away when your treatment is complete.
After Vitamin IV Therapy
Most patients feel revitalized immediately after their vitamin IV therapy. However, it is also normal to have a temporary headache or mild nausea—this can occur when you replenish a nutrient that your body was previously depleted in. You may also experience mild bruising at the injection site. In general, you can resume regular activities right away.
Frequently Asked Questions About Vitamin IV Therapy
Who can benefit from Vitamin IV Therapy?
Virtually anyone can get benefits from vitamin IV therapy, including people who would like more energy and vitality. Vitamin IV Therapy can be a great option for patients who have had bariatric surgery because it may allow for better absorption of vitamins and nutrients.
Does Vitamin IV Therapy hurt?
You may feel an initial pinch when the IV is inserted, but most patients feel comfortable once it is in place.
Why should I go to NWWC for vitamin infusions?
At our well-established and highly rated medical clinic, infusion treatments are administered by registered nurses who are experienced in IV therapy.
Which Vitamin IV Therapy formula is right for me?
We will talk to you about your goals in order to recommend a vitamin formula for you. Our menu of vitamin add-ons allows us to ensure you get all the supplements you need in your treatment.
Contact Us
At Northwest Weight and Wellness Center, our mission is to help you live a healthier life. Contact us with any questions or to schedule your vitamin IV therapy today!